PPT, Duquesne and Braddock Residents Raise Concerns around Equity and Access with the BRT Proposal
Residents and Riders speak up at the July Port Authority Board Meeting about the possible negative impact of the BRT in their communities:
"Mamadou Ndiaye, an intern for Braddock, said the changes would put a burden on the borough's many low-income residents traveling Downtown for access to health providers and other services.
"Within the borough, we don't have many social services for our residents," Ndiaye told the board. "So to impose a change that would make their commute time even longer … is something we see as being inequitable."
From the Trib:
http://triblive.com/…/passengers-ask-port-authority-to-reco…
From WESA:
http://wesa.fm/…/braddock-duquesne-residents-voice-concern-…
From WPXI:
http://www.wpxi.com/…/residents-voice-concerns-ov…/574841250
"The group recently presented the authority with a letter calling for the agency to allow groups to participate in the process and identifying the qualities it wants to see in a new CEO.
"We respectfully request that, as an important public asset, the public be given an opportunity to weigh in on the final selection of a CEO," Laura Weins of Pittsburghers for Public Transit wrote.
The group recommended that "labor, riders, policy advocates, neighborhood groups and foundations" be involved in the initial screening process for a new CEO.
Then, finalists should participate in a public forum and take questions, much like some school districts and universities do before selecting a new leader.
Among the qualities the group wants to see in the new CEO is someone who "recognizes that mass transit is first and foremost a public good, and not a business out to make a profit."
In addition to transit skills, the new leader also should show transparency by including community voices in all decisions; work toward reducing the negative impact that transportation and housing policy can have on low-income communities; have demonstrated skills working with other government leaders and community groups."
"'Port Authority says they want to keep their riders safe, but this dangerous method of enforcement does the exact opposite for communities of color, people with disabilities, undocumented residents and low-income families,' Christina Castillo, an organizer with the Thomas Merton Center, said in a news release."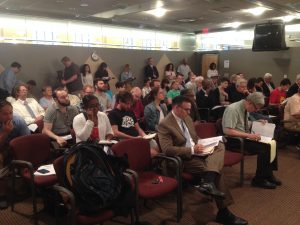 "More than two dozen people came to the Port Authority Board meeting Friday to speak out against a new policy to enforce fare collections on the T."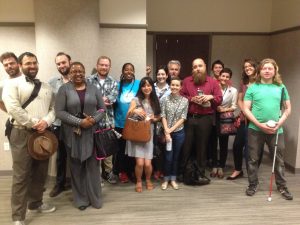 "Amy Risko, a hospice nurse, said she and many co-workers use public transit. At least three times in recent months, she said, the collection box on the light rail car wouldn't read her prepaid card.
'Armed police officers are a terrible idea,' she said. 'No one here is endorsing fare evasion, but we are asking you to consider its long-term effect on riders.'"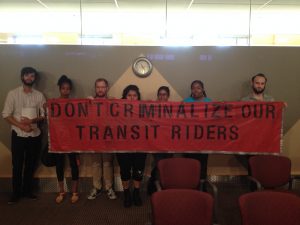 "'Obviously, we think delaying is the right thing to do if the equipment isn't available yet,' said Laura Wiens of Pittsburghers for Public Transit, one of four groups in the coalition.
'We hope they use this time to rethink the enforcement policy.'"
"'The warning signs about Uber's questionable business practices were all over the place, and the mayor should have recognized that and worked harder to create a partnership that was more equitable,' Ms. Nichols said.
She added that there might be longer-term problems from autonomous vehicles, including automation's effect on Uber's 4,000 drivers in the city. Parking fees also make up about 15 percent of Pittsburgh's revenue, and the city has not said how those funds would be replaced if fewer people owned and parked cars and used driverless services instead, she said."
"Molly Nichols of local advocacy group Pittsburghers for Public Transit is concerned about the frequency of ride service to these towns. The BRT will likely make local service less frequent, she said, adding that the outreach to these communities discussing this possibility has been lacking.
Nichols said her organization also strongly believes there shouldn't be a transfer fee for these riders. We agree, and it seems like Mayor Bill Peduto does too."
"Molly Nichols, director of the advocacy group Pittsburghers for Public Transportation, also raised the issue of ConnectCard machines not working.
'It was good to see the board acknowledge that they want to get more innovative, but it's also crucial to acknowledge issues with the current [ticket vending] machines,' Ms. Nichols said."
"'We're talking about for less than $5, we're going to give people a citation up to $300,' Brandi Fisher of the Alliance for Police Accountability said during a presentation about the policy before training began. 'We've already seen across America where very small incidents can lead to someone's death.
We're not saying there shouldn't be accountability for not paying a fare — it's what that accountability should look like.'"
"A coalition of groups concerned about Port Authority's plan to use armed police officers for fare enforcement is turning up the heat against the policy.
The coalition began gathering signatures on petitions at light-rail stations Wednesday and posted a petition online to collect more signatures. In addition, there will be a public meeting at 6 p.m. June 15 at 1 Smithfield St., Downtown, for people to air concerns about the policy."
"The coalition wants the agency to consider a civil process that would go to a bill collector if the fare isn't paid rather than a criminal process that could send someone to jail or lead to deportation if the rider is an undocumented immigrant. San Francisco, among other transit systems, uses civilian fare checkers to issue civil fines."
"Residents of Mifflin Estates in West Mifflin have won their battle to have Port Authority bus service extended to their community."
"Molly Nichols, of transit-advocacy group Pittsburghers for Public Transit, sees potential upsides too, like congestion reduction. She points to Port Authority statistics showing that buses make up only 4 percent of vehicle traffic on the Fifth-Forbes corridor, even though 51 percent of people arriving in or moving through Oakland get there via bus.
But Nichols also worries about Mon Valley riders who will lose route frequency. She points out that if these riders, who are majority black and low-income, are negatively affected, Port Authority could face charges of violating civil rights.
'They have to prove that a project like this doesn't have disproportionate impact on minorities or vulnerable populations,' says Nichols. She also wants Port Authority to ensure these added BRT transfers are free, since riders currently aren't paying for them."
"We already know the stop spacing is proposed at one-third of a mile, and that could be a real issue for riders with mobility challenges. We are concerned not just about whether transfers would be free but also about the fact that so many riders would have to transfer. And we already know the local routes would come less frequently and are very concerned about that.
The city, county and Port Authority are asking for feedback on the four options to determine the 'locally preferred alternative,' but they have not laid out the precise impact each option would have on riders' commutes. For example, if a rider currently takes a 61A into town from Braddock, how exactly would his or her commute be different?"
"We had concerns about Uber and its relationship to the city from the beginning," said Molly Nichols, director of Pittsburghers for Public Transit. "While we appreciate that the mayor is sharing his concerns, we think that should have been part of the conversation from the beginning.
"Now that a precedent has been set, it remains to be seen how much leverage the mayor has."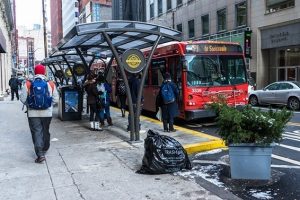 CP photo by Aaron Warnick
"All of these big shifts with little public notice has made some advocates wary of the board-appointee process. Molly Nichols, of the public-transit-advocacy group Pittsburghers for Public Transportation, wonders why these big decisions happened so quickly and relatively quietly. She is calling for more transparency when board members are appointed.
'PPT would like to see more transparent processes for board appointments, including naming the qualifications of appointees and holding public hearings,' says Nichols. 'This would give the public the opportunity to ask appointees how they plan to serve the transit riders of Allegheny County.'"
"An effort by residents of a West Mifflin housing complex to reinstate bus service there could be getting a boost from elected officials.
Allegheny County Council on Tuesday will consider a motion to formally urge Port Authority to reinstate bus service to Mifflin Estates. The service was discontinued in 2009.
A group of Mifflin Estates residents have been going to Port Authority and County Council meetings for the past several months to urge officials to reinstate the route."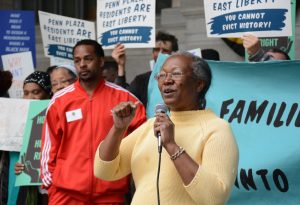 (Photo by Stephen Caruso/PublicSource)
"Randall Taylor thinks Pittsburgh has a problem — a development problem.
Seeing tax burdens growing for seniors and people losing their homes in Lawrenceville, South Side and East Liberty — which are often deemed hot, up-and-coming neighborhoods — Taylor notices a pattern in Pittsburgh's growth.
'They're leaving behind those who built those very neighborhoods,' said Taylor, a 50-year-old who was forced out of his Penn Plaza apartment in East Liberty a year ago.
Taylor was one of the organizers of a protest attended by about 80 people on the steps of the City-County Building downtown Tuesday afternoon to protest the continued development of the Penn Plaza apartments site and the gentrification it represents."
"The protestors are calling on Pittsburgh Mayor Bill Peduto 'to reject Uber as a partner to this city, and to evaluate other on-demand transportation options that would allow for a more accountable and publicly-controlled expansion of our transit system,' according to their email."
"Citing the reports of the close relationship between Pittsburgh's mayor and Uber's CEO, Tom Conroy, a Port Authority bus driver and member of Amalgamated Transit Union Local 85, thought Peduto needed to quit 'kowtowing' to Uber and show more transparency in his decision making.
In December 2016, PennLive reported that Peduto, as part of the city's application for a competitive $50 million federal grant for infrastructure improvements, offered Uber access to the city's busways in return for a $25 million investment in Pittsburgh's infrastructure.
'These backroom deals are not the kind of deals a progressive city should make,' Conroy said."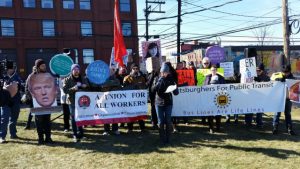 Photo Credit: Jeff Roupe/KDKA
"Laura Wiens, a member of Pittsburghers for Public Transit and the organizer of Saturday's protest, said they believe Uber's public opposition to the ban and subsequent actions are just a reaction to bad press.
'We can celebrate a small victory because Uber [CEO Travis Kalanick] has [stepped down from the economic council], but it was only after massive boycotts of their product. People had deleted their app, more than 200,000 people deleted their app,' Wiens said. 'And we think that they did it too late, frankly, because people's lives were affected on Saturday'…
Wiens said they would like Mayor Peduto to reconsider Uber's partnership with Pittsburgh."
"The protesters want Peduto to 'evaluate other on-demand transportation options,' claiming Uber 'has fought any attempt to hold it to account to basic standards of safety and liability regulations, labor rights, environmental sustainability, data transparency, and compliance with civil rights laws such as the Americans With Disabilities Act,' according to a release."
"Protesters called on Uber to pay drivers a living wage, comply with the Americans with Disabilities Act and allow workers to unionize.
Tom Conroy, a Port Authority bus driver and a board member for the Amalgamated Transit Union Local 85, agreed. He said as Uber's technologies displace jobs, the company has an obligation to ease the transition.
'They make money in our cities," he said. "So they need to contribute to our cities to help keep the cities healthy that make them wealthy.'"
""My impression right now is that people can live in Pittsburgh without a car, and many residents do,' says Molly Nichols, community organizer at Pittsburghers for Public Transit, a grassroots organization. 'Some do by choice, but the majority of the time it's a financial necessity that they're unable to afford.'
Overall, 29 percent of all Port Authority of Allegheny County transit riders don't have access to vehicles, according to agency data."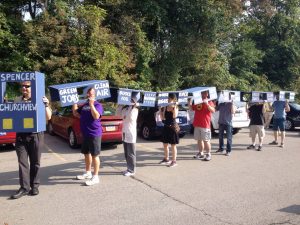 "Pittsburghers for Public Transit (PPT) organizes riders in "transit deserts," neighborhoods where residents must walk over a mile to get to the nearest bus, or where bus service runs only in the morning and afternoon. Director Molly Nichols, who joined the group in 2014, has overseen six successful neighborhood campaigns aimed at pressuring the transit authority to restore canceled routes and add new service for residents. While Nichols and her staff help facilitate meetings and weigh in on strategy, committees of residents in the affected neighborhoods make the campaign decisions. In Baldwin (a working-class borough south of Pittsburgh), residents gathered over 1,500 signatures to deliver to the transit agency board. They also organized a successful stunt, inviting politicians, transit staff, and the press to walk the mile and a half that separated them from the nearest bus stop. And after a year of effort, they won their bus service back."
"Molly Nichols, director of Pittsburghers for Public Transit, also opposes the proposal, writing to the commission, 'You may want to create mixed income neighborhoods, but the only way to do that, without displacing long-time residents, is by building more affordable units into the new developments.'"
"A vote on the preliminary land development for 9.3 acres in East Liberty — known for the dislocation of residents of the Penn Plaza Apartments earlier this year — was postponed Tuesday evening after a lengthy hearing.
More than 100 people turned out for the city Planning Commission meeting, sitting on the floor, standing along walls and in the hallway at 200 Ross St. Many lined up to testify against a plan that includes no affordable homes in a 400-unit redevelopment that would include a Whole Foods Market."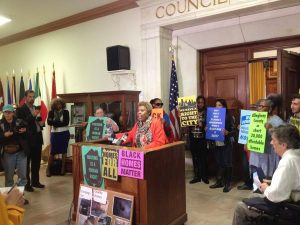 "Scores of Pittsburghers urged the city Planning Commission on Tuesday to reject, or at least delay, a Downtown real estate firm's plans to build high-end housing on the site of a shuttered low-income apartment complex in East Liberty, attacking the project as gentrification.
"Redevelopment in the (1960s) took years, and there were a lot of mistakes made," said Sallyann Kluz of East Liberty. "Please give us the time so we don't make them again."
"However, Nichols, of Pittsburghers for Public Transportation, points out that public-private partnerships also mean giving public money to private companies that don't always look out for their workers. Nichols would rather see Port Authority expand because being a bus driver is a "family-sustaining" job that low-income residents have access to.
To build out Port Authority's current system without affecting low-income families, Nichols' group believes the county should tax corporations. The group submitted a white paper this March requesting a county tax on corporate profits to increase funds for public transit. PPT cites the nation's growing corporate profits and shrinking corporate-tax revenue over the years as reasons corporations should contribute.
'Major corporations and institutions in our region couldn't function without our public-transportation system,' says Nichols. 'Some of their profits should pay into that system.' "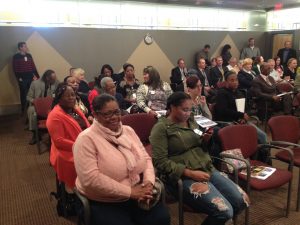 "LaKeisha Bighum had finished her shift at the Allegheny County Jail only a few hours before she testified to the Port Authority board Friday morning.
But Bighum, a single mom of two and resident of a Section 8 community in West Mifflin, said it was important for her to show up to urge the board to restore bus service to her neighborhood.
A handful of residents from Mifflin Estates testified to the board about the effects of losing bus service in 2009: paying $40 a weekend just to get to work; walking more than a mile along a busy road without a sidewalk to get to the nearest bus stop; feeling isolated in what they've dubbed 'the island.'"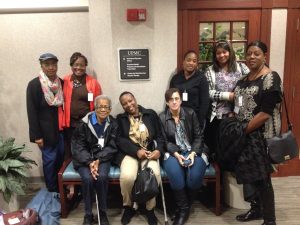 "Resident Maria Green, who moved back to West Mifflin from Chicago recently, said she takes home $244 every two weeks at a weekend job but has to spend $40 each weekend to pay for a ride to the nearest bus stop. She tearfully told the board she also needs radiation treatment five days a week for breast cancer and has trouble getting there.
'To get to a bus stop, you have to pay $5 to $10 a day for a ride,' she said. 'What else do we have to do to get our bus back?'"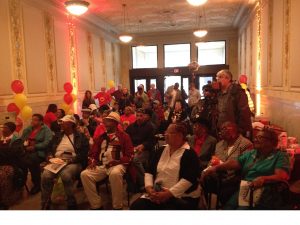 "Molly Nichols, a community organizer of Pittsburghers for Public Transit, said the event will highlight the expanded service and acknowledge the efforts to reach a common goal.
'So many hundreds of residents came together to advocate for (more accessible transit),' Nichols said."
"While air quality in Pittsburgh has improved over the last several decades," says Rachel Filippini, of Group Against Smog and Pollution, or GASP. "We continue to have some of the worst air pollution in the country, especially in terms of fine-particulate matter. One source of these emissions is Port Authority buses."
Several community-based groups implored the Port Authority to "green" its fleet as much and as soon as possible.
Those groups included the Allegheny County Transit Council, the Group Against Smog and Pollution, Pittsburghers for Public Transit and 350 Pittsburgh.
"Renewable energy has never had stronger support from the government, corporations and the public," said Fred Kraybill of Point Breeze, a member of the 350 group.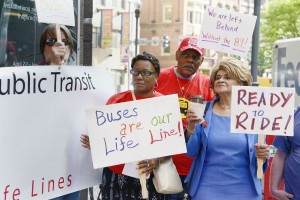 That means requests such as daily service north of West View on Route 19, which received a high rating from from authority staff, can't be filled. Several speakers reiterated the need for service to public facilities in McCandless such as Community College of Allegheny County's North Campus and Northland Public Library.
"The fact the kids can't get to a college in their own neighborhood, that's just a crime," said Fran Lange of Ross, a member of Buses for Perry Highway. "There are a lot of senior citizens that would love to go to the library, but you can't get there."
The Port Authority's proposed budget for next year includes added bus lines that people with Pittsburghers for Public Transit have been asking for.
The $1.3 million in the budget dealing with added routes includes weekend service to Garfield and service along Mt. Carmel road in Penn Hills.
Residents and community groups who spoke before authority board members during a meeting Friday mostly applauded the $1.3 million in added services expected to start this fall. But they also said the agency needs to do more to serve areas that lost bus access when the then-financially fragile authority cut routes in 2007 and 2011.
After considering 85 distinct requests from about 1,500 residents in its service area, Port Authority of Allegheny County board members proposed improving bus service for Penn Hills riders with more frequent stops and extended routes.
"We are glad there is this … opportunity to expand transportation in Penn Hills because it is greatly needed. We see so many residents who struggle to get to appointments, jobs, training programs, and the store," said Joyce Davis of the Lincoln Park Community Center and Penn Hills NAACP in a release about a news conference that the nonprofit Pittsburghers for Public Transit was to hold Downtown on Friday.
Molly Nichols, a community organizer with Pittsburghers for Public Transit, said they "wholeheartedly supports reducing the Zone 2 fare. … We regularly talk to riders in (more outlying suburban areas in) Zone 2 who have trouble paying the current high fares. And folks who live in the city have trouble paying to get to job centers in Zone 2."
But Nichols said PPT opposes the surcharges for cash-paying customers, along with the high cost of transferring for cash-paying customers.
"All transfers should be free. It's not cool to be taking the last free transfer away."- Molly Nichols of PPT.
PPT is in the Nation!
"Our organization is not very invested in electoral politics," she says. "But I've seen bus drivers excited about the way Bernie is talking about taking on the billionaires. And the way Sanders is energizing young people is really powerful."
"People making decisions about housing need to make sure people are going to have access to transit. People making decisions about transit need to make sure their system is connected to places where people can afford housing," said Molly Nichols, an organizer with the group.
"Our organization thinks that those communities deserve transit service. And we are concerned that more and more residents in the city of Pittsburgh cannot find affordable housing in the city, and go outside the city, where they don't have good access to transit," Ms. Nichols said.
"We appreciate the opportunity to thank and honor the 2,000 public transit workers in Allegheny County who get riders to our destinations
safely. These workers are out 365 days a year in rain, snow, ice, and frigid temperatures, as well as our hot summers."
"People are making it a higher priority to live in communities that are more connected," Lodico said. "These connected places are becoming increasingly expensive — prohibitively expensive."
He urged the board to tackle the issue by requiring affordable housing in its transit-oriented development contracts.
"Make a statement," he said.
Port Authority's main focus isn't housing development, but the agency plans to do what it can to make affordable housing a component of future developments built on authority property.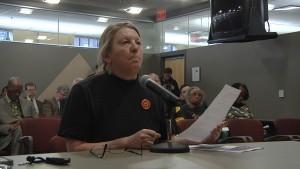 "The group Pittsburghers for Public Transit supports the idea.
Molly Nichols, a spokesperson for that agency, says, 'We think that's a really significant step for the transit agency to take because we work with a lot of riders who live in Zone 2 and have a hard time paying that $3.75 fare to get into town.'"

"The walk from Penn Avenue in Garfield to the top of hill and Garfield Commons Apartments is a doozy. For every 10 feet you walk, you gain a foot of elevation. That's one-and-a-half times as steep at the Bates Street hill from Second Avenue to Boulevard of the Allies in South Oakland, and twice as steep as the Penn Avenue hill from Doughboy Square in Lawrenceville to Bloomfield. And on the weekends, Garfield residents without cars have no choice but to walk it."-CP's Ryan Deto
"Residents in Garfield have been tirelessly advocating for this service to be reinstated," wrote Nichols in an email to City Paper, "and they appreciate getting this show of support from their elected officials. The support gets us closer to ensuring that all communities get the transit service they need."
PPT community organizer, Molly Nichols, called in to Essential Pittsburgh to discuss the new super stop at Smithfield and 6th downtown. PPT would to thank Mayor Peduto and Envision Downtown for looking out for the 6,500 riders that use this stop everyday.
Nichols was also featured on KDKA tv news to help spread information about real time technology that can help improve the experience of everyday transit users. Services like Port Authority's TrueTime and the Transit App are available free to all riders.
"A new bus stop located on Smithfield Street by the Sixth Street intersection in Downtown, Friday, Jan. 22, 2016. The open-air shelter was privately funded and is built on concrete that juts out into the road to give transit riders more space."
"Molly Nichols and Casey Stelitano from Pittsburghers for Public Transit rider advocacy group made note of the improvements during Port Authority's board meeting Friday. They trekked over to the intersection to have riders sign thank-you cards to Mayor Bill Peduto and Envision Downtown.
Nichols hopes the concept can be replicated, calling it "a small improvement that makes a big difference.""
Dozens of transit riders and community members came out to speak and to stand together in the fight for better bus service. Many testimonies and heartfelt accounts were given about the lack of service and its effect on individuals from all walks of life. Groups from Penn Hills, Garfield, and Perry Highway came out in support of transit improvements in their neighborhoods and for all those who need it.
The event garnered a large amount of media attention and was covered by WPXI, WTAE, the Post-Gazette, WESA, and KDKA:
Highlights from speakers:
Ken Love (Penn Hills): I see young single mothers walking with their little kids, struggling to keep their kids safe, and then struggling to come back with 3 or 4 bags.
Annie Howard (Perry Highway): Today we alluded to a possible trend in less ridership, which I find strange, because there is a whole room of people behind me that are clamoring for service.
Del Royce Tatum (Garfield) : I would like to invite you to a weekend adventure in Garfield heights, we will go shopping, maybe the movies if you like. Please understand our plight, we have no cars, or a bus to get there. We have the 89 running Monday through Friday. But on the weekends we have nothing. We buy monthly bus passes just like everybody else, but we don't have monthly service. You have been robbing us of our monies and are freedoms, because we don't have bus service on the weekend.
Post-Gazette Editorial Board pens op-ed on transit deserts
The Post-Gazette has published an article calling that PAAC's surplus funding should go to addressing service gaps and needs. The op-ed comes after the October 23rd PAAC board meeting at which over 20 residents and community leaders spoke about lack of service in their neighborhoods.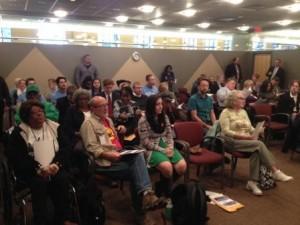 Read more: Transit deserts: The Port Authority must try to find relief
Residents urge Port Authority to reconsider route eliminations
Residents from Garfield, Perry Highway, and Penn Hills came together to speak at a Port Authority board meeting to call for adequate bus service in their neighborhoods.
October 23, 2015
Watch more: http://www.wtae.com/news/residents-urge-port-authority-to-reconsider-route-eliminations/36008860
Read More: http://www.post-gazette.com/news/transportation/2015/10/23/Groups-ask-for-restored-Port-Authority-bus-service-in-North-Hills-Penn-Hills-Pittsburgh-s-East-End/stories/201510230248
http://wesa.fm/post/pat-board-asked-increase-service-3-communities
Port Authority instituting a new era of equity and transparency
"We have been asking for more transparent processes for years, so it was great to see," says Molly Nichols, community organizer for PPT. "It was definitely a step in the right the direction."
September 23, 2015
Read more:http://www.pghcitypaper.com/pittsburgh/port-authority-instituting-a-new-era-of-equity-and-transparency/Content?oid=1855895
Restored Service To Baldwin, Groveton Squelches Four-Year 'Transit Desert'
Coverage of our celebratory rally!
Laura Wiens, emcee of the rally, celebrates restoration of PAT service to parts of Baldwin and Groveton
September 9, 2015
Read more:http://wesa.fm/post/restored-service-baldwin-groveton-squelches-four-year-transit-desert
Two 'transit deserts' get bus service back

Darnell Jones, of Groveton, speaks at the rally celebrating the renewed bus service to his community.
September 9, 2015
Read more:http://www.pghcitypaper.com/Blogh/archives/2015/09/09/two-transit-deserts-get-bus-service-back
Pittsburgh bus riders celebrate expanded service
Dietra Hawkins, 52, of Groveton Village, claps her hands as she celebrates new Port Authority bus routes coming from her neighborhood and Baldwin on Wednesday, Sept. 9, 2015 in Downtown. Also celebrating with her is Darnell Jones (right), 42, of Coraopolis. 'It was a wonderful feeling knowing now I can get from point A to point B on my own,' said Hawkins, who rode the #20 bus in to town for the celebration. 'There's no words for that feeling.'
Amalgamated Transit Union (ATU) organizer Mike Harms, 48, of Baldwin celebrates new Port Authority bus routes coming from his neighborhood and Groveton Village on Wednesday, Sept. 9, 2015 in Downtown. Pittsburghers for Public Transit held the rally to celebrate the new lines, with residents from both towns riding into Downtown to join together.
September 9, 2015
Read more: http://triblive.com/news/adminpage/9056072-74/bus-riders-authority#ixzz3nKnYWyFJ
Extended bus route in Baldwin Borough gives riders more options
Jennifer and Jon Herron, both 30, stand by a new bus stop across from their home in Baldwin Borough on Thursday, Aug. 6, 2015. Jennifer Herron lives in Baldwin and works Downtown – she carpools but soon will take the new Port Authority 44 Knoxville, which will stop right by her house.
Community organizer for Pittsburghers for Public Transit Molly Nichols of Regent Square pushes her bike up a hill in Baldwin Borough to one of the new bus stops that will be available to the area on Thursday, Aug. 6, 2015. Nichols organized the community to work to regain some bus service that was eliminated in previous years.
August  12, 2015
Read more: http://triblive.com/neighborhoods/alleghenyneighborhoods/alleghenyneighborhoodsmore/8341095-74/baldwin-bus-service#ixzz3nKnAmZIB
Transit groups push for more bus funding in highway bill
A group of 81 public transportation unions and advocacy groups  pushes congress to increase federal funding for bus companies in a transportation spending bill that is coming up for renewal at the end of the month.
July 20, 2015
Read more:http://thehill.com/policy/transportation/248498-transit-groups-push-for-more-bus-funding-in-highway-bill
Bus route to return to north Baldwin
An extension of the 44 Knoxville bus line will provide service to the Churchview Avenue section of Baldwin, an area lacking public transportation since cuts were made to routes in 2011.
July 15, 1015
Read more: http://triblive.com/neighborhoods/yoursouthhills/yoursouthhillsmore/8730668-74/baldwin-bus-avenue#ixzz3nKlhPZt0
Port Authority panel holds off vote on $3 fee for ConnectCards
A Port Authority board committee put the brakes on a proposed $3 fee for new or replacement ConnectCards on Thursday after a survey and public hearings showed strong opposition among riders.
July 16, 2015
Read more:http://www.post-gazette.com/news/transportation/2015/07/16/Port-Authority-panel-to-consider-3-fee-for-new-ConnectCards-allegheny-county-pittsburgh/stories/201507160160
Rating service: Port Authority seeks to keep the public in transit
With the Port Authority's release of new draft service guidelines, Allegheny County residents will soon have a say in how to improve the public transit network.
June 2, 2015
Read more:http://www.post-gazette.com/opinion/editorials/2015/06/02/Rating-service-Port-Authority-seeks-to-keep-the-public-in-transit/stories/201505310074
Moon residents lobbying for Port Authority bus '‍tweak'
"This proposal indicates the Port Authority's willingness to listen to the voices of community members and to take steps to address their needs," said Jonah McAllister-Erickson, Coordinating Committee chair.
May 30, 2015
Read more:http://www.post-gazette.com/news/transportation/2015/05/30/Moon-residents-lobby-for-more-Port-Authority-service/stories/201505300048
Better fiscal health leads Port Authority to add service
Under the Port Authority's preliminary budget, the base bus fare would remain at $2.50.
May 21, 2015
Read more:http://www.post-gazette.com/news/transportation/2015/05/21/Proposed-Port-Authority-budget-would-keep-fares-the-same-extend-four-service-routes/stories/201505210190
Transportation advocates urge Congress to move on funding
Chris Sandvig, regional policy director for Pittsburgh Community Reinvestment Group, speaks today about the importance of federal transportation during a press conference at the Wood Street T Station, Downtown.
April 9, 2015
Read more:http://www.post-gazette.com/news/transportation/2015/04/09/Transit-advocates-to-rally-today-urging-Congress-to-move-on-funding-pittsburgh/stories/201504090173
People in Baldwin need transit help
A piece by Baldwin resident, Bob Ieraci, that draws attention to the depth of his communities need for service.
December 9, 2014
Read More:http://www.post-gazette.com/opinion/letters/2014/12/09/People-in-Baldwin-need-transit-help/stories/201412090015
Port Authority adding trips to nine bus routes starting Nov. 23
Trips will be added to 12 McKnight, 16 Brighton, 38 Green Tree, 56 Lincoln, 91 Butler Street, G3 Moon Flyer, P2 East Busway Short, P68 Braddock Hills Flyer and Y47 Curry Flyer.
November 10, 2014
Read more: http://www.post-gazette.com/news/transportation/2014/11/10/Pittsburgh-Port-Authority-adding-trips-starting-Nov-23/stories/201411100165 
PennDOT Pedestrian Bridge To Use PAT Funding
"In 2009 a court ruling stated that the drink and car rental taxes could only be used for PAT expenditures , yet the $1 million bridge will be paid for with those taxes and built by PennDOT."- Jess Lasky, WESA
November 3, 2014
Read more:http://wesa.fm/post/penndot-pedestrian-bridge-use-pat-funding
Commuters in 'transit deserts' call for renewed Port Authority bus service
The Townshipf of Baldwin, CCAC North, and Penn State Greater Allegheny call attention to their service needs.
October 22, 2014
Read more: http://triblive.com/neighborhoods/alleghenyneighborhoods/alleghenyneighborhoodsmore/6976576-74/authority-service-port#ixzz3nKLW0eal
Don't leave transit deserts high and dry
"The Port Authority's top priority should be serving those with little or no access to transportation", a piece by PPT's Nick Coles and Molly Nichols.
October 5, 2014
Read more: http://www.post-gazette.com/opinion/Op-Ed/2014/10/05/Don-t-leave-transit-deserts-high-and-dry-1/stories/201410050179
Baldwin riders protest for more South Hills bus routes
Tim Gaughan, 56, of Whitehall (in front) participates Saturday in a rally to restore bus service to Baldwin and other South Hills communities. He and other demonstrators held signs depicting a bus with the message "More transit, not less." Photo credit: Jason Cato
September 6, 2014
Read more: http://triblive.com/news/adminpage/6742697-74/authority-port-routes#ixzz3nKQKWv4P
Baldwin residents campaign for return of bus route
Sissy Edelman of Brentwood (back left) and Mitzie Biertempfel of Baldwin Borough, look on while Cathy Szemanski of Baldwin Borough (front left) and Louise Weil of Baldwin Borough sign a petition to bring port authority buses back to Baldwin.
September 3, 2014
Read more: http://triblive.com/neighborhoods/yoursouthhills/yoursouthhillsmore/6577339-74/baldwin-public-transit#ixzz3nKPsb5CO
Don't blame bus drivers
A piece by Alan Hart, member of Pittsburghers for Public Transit and managing editor of the United Electrical, Radio and Machine Workers of America's UE News.
August 18, 2014
Read more: http://triblive.com/opinion/letters/6622166-74/drivers-transit-bus#ixzz3nKOXApjz
Port Authority standing pat on routes
Riders pushing service restoration
July 26, 2014
Read more: http://www.post-gazette.com/news/transportation/2014/07/26/Port-Authority-standing-pat-on-routes/stories/201407260019
Route Questions: Baldwin residents pushing the conversation on transit route restoration
PPT and Baldwin residents point out the need for adequate and effective service in their area.
July 16, 2014
Read more: http://www.pghcitypaper.com/pittsburgh/route-questions-baldwin-residents-pushing-the-conversation-on-transit-route-restoration/Content?oid=1765336
Port Authority stabilizes but isn't ready to restore routes
"Increased state funding has Port Authority of Allegheny County on solid financial footing for the first time in years, but the agency isn't ready to restore service to communities that lost it during cutbacks three years ago, officials said."
June 29, 2014
Read more:http://triblive.com/news/allegheny/6357172-74/authority-service-port#axzz36KJaP0Ek
Port Authority board to hold special Bus Rapid Transit meeting
The Port Authority board announces it will hold a public meeting to discuss possible funding streams for a $4 million study of Bus Rapid Transit (BRT) — a project that would create separately branded rapid bus service between Downtown and Oakland.
June 27, 2014
Read more:http://www.pghcitypaper.com/Blogh/archives/2014/06/27/port-authority-board-to-hold-special-bus-rapid-transit-meeting
Expert recommends technology, cultural changes at Port Authority
"The customer must be the focus of the entire strategic plan. The riders here feel a little bit left out."-David Leininger, vice president and chief financial officer for Dallas Area Rapid Transit
May 21, 2014
Read more:http://www.pghcitypaper.com/pittsburgh/expert-panel-recommends-technology-cultural-changes-at-port-authority/Content?oid=1752836
Transit Route: PAT looking for input on the agency's future direction
"This is the moment to decide, 'Where do we want to go as a region?'"Port Authority spokesman Jim Ritchie
May 14, 2014
Read more:http://www.pghcitypaper.com/pittsburgh/transit-route-pat-looking-for-input-on-the-agencys-future-direction/Content?oid=1751346http://http://cbsloc.al/1nwIkwe
PPT celebrated the passage of the transportation bill in November of 2013, thanks to the support of people like you! 
The good news from the bill: no more service cuts. The bad news: it was designed for Port Authority to only "maintain existing service" and not to restore the service that has been cut over the years.
This is a problem. Some residents in our county walk over 2 miles to get to a single bus stop. We've been mobilizing residents in these "transit deserts." Residents from Baldwin borough have gotten together to advocate for service in their community–meeting with Port Authority and elected officials, delivering over 1500 petitions, holding a Walk for Transit in September.
Port Authority is now well aware about the needs of this community just 5 miles from downtown Pittsburgh, and the campaign is continuing to push for service this year! Residents in Moon and Groveton (near Coraopolis) have also worked to get their voices heard. We know that when transit riders, transit workers, and residents come together, we gain power.
In addition to these community campaigns, PPT has been advocating for more inclusive and transparent transit planning and decision-making. Port Authority is listening, and they are now working on developing criteria for how and where to add service, including a formal process for how to respond to service requests. This kind of democratic input is crucial for improving our transit system and ensuring it meets the needs of the residents of this county. PPT has also pressured county council to recognize that additional revenue from the drink tax could be allocated for Port Authority operating costs. We understand the funds are limited, but a few million dollars a year could make a huge difference in the kind of service Port Authority can provide.
We have also been conducting research on sustainable transportation, equity, service needs, accessibility, ridership potential, and funding sources.
We are gearing up for the next year and plan to mobilize residents in at least 3 more communities. We encourage you transit supporters to get involved in our campaigns. If you'd like to make a donation, you can do so here.
Thank you for all you've done to support public transit, and we look forward to working with you all to ensure that we get service to these transit deserts and keep the public in public transit!