The Riders' Vision for Public Transit
On June 25, 2018, Pittsburghers for Public Transit and the Mon Valley Initiative launched the Riders' Vision for Public Transit. We have won a number of victories in recent months, restoring and preserving bus service in communities that need access to public transit the most. However, we know that these are only first steps to achieving a truly equitable and growing transit system in Allegheny County. Transit is a critical component for economic development and opportunity, for equity, for becoming a truly sustainable and climate resilient city, and is a necessary partner for affordable housing. Bus leaders on the BRT and 59 campaigns are proposing a series of key, achievable regional transit goals to highlight and serve each of these four planks.
Join us! Sign up on our main page to take part in any of the four planks of the Riders' Transit Vision: Transit as A Roadmap for Economic Opportunity, A Foundation for Equity, A Solution for Air Quality and Climate Change, and A Vital Link for Quality, Affordable Housing.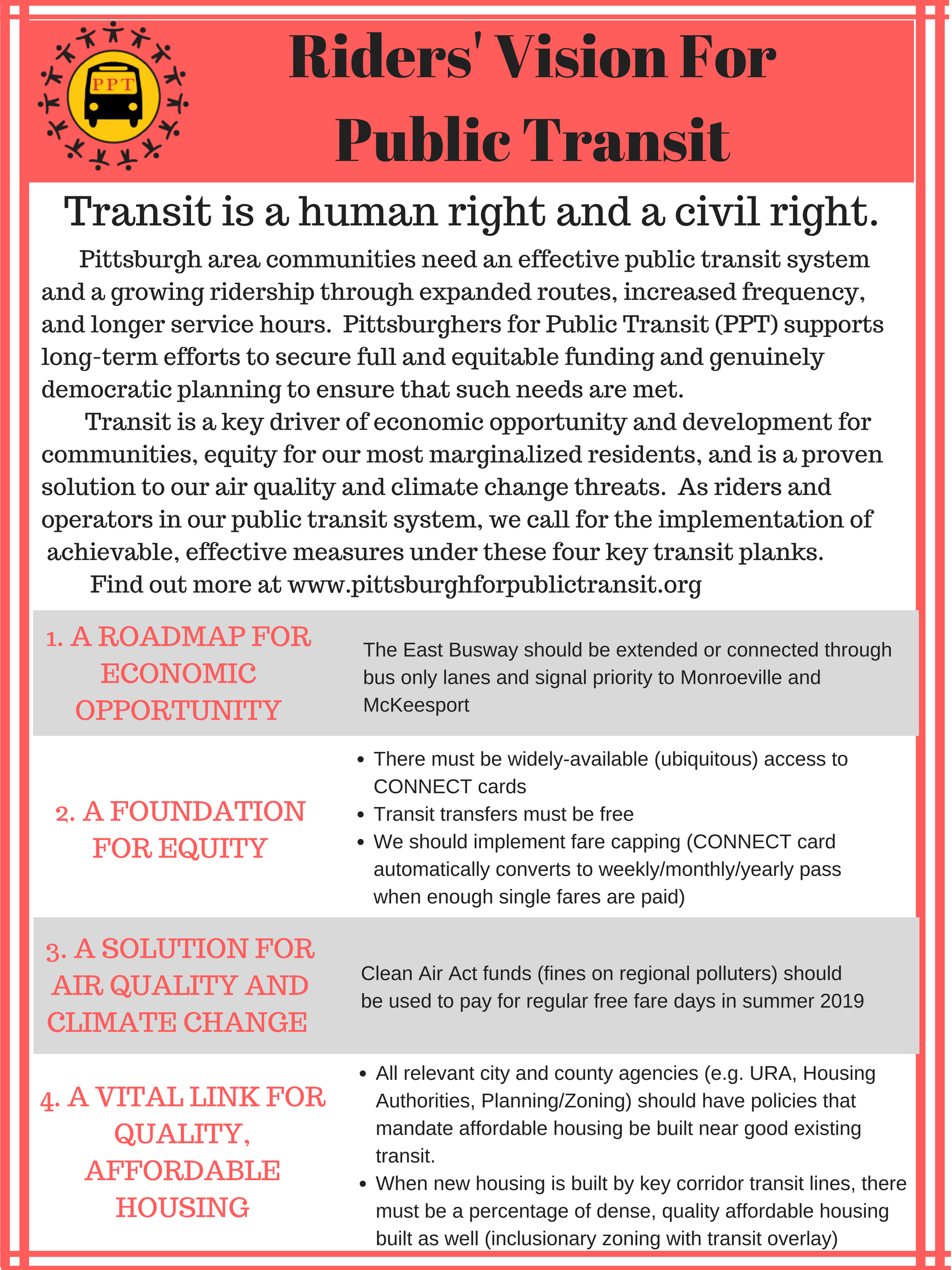 Don't Criminalize Transit Riders!
Pittsburghers for Public Transit is worked closely with Casa San Jose, the Alliance for Police Accountability, and the Thomas Merton Center to oppose the Port Authority's proposed proof of payment plan, which includes armed police checking for fare payment on the T. After more than a year of rallies, testimony, petitions, postcards, and marches, the Port Authority CEO Katherine Kelleman announced in April 2018 that the Port Authority would not proceed with having armed police officers check fares on transit. This was a huge victory, and prevented the harm that we've seen in other cities with similar policies across the country, including the detainment and deportation of undocumented immigrants, the criminalization of the poor, the worsening of the school to prison pipeline, and police brutality on our black and brown residents on public transit.
We are continuing to advocate for safer and better transit police practices, with demands that include a policy of non-compliance with ICE, better training in mental health intervention, racial bias, diverse hiring and promotions, and a civilian oversight board. We are also connecting with refugee and other marginalized communities to discuss ways the the Port Authority can be more accessible to all our county residents.
Bus Rapid Transit 
The bus rapid transit plan originally proposed by the Port Authority would have created, among other things, bus only lanes and traffic signal priority for buses in an effort to eliminate congestion between Downtown and Oakland. This proposal also would have caused riders all along the East End and Mon Valley to lose their one seat ride downtown, to pay a mandatory transfer fee in Oakland, and see nearly 50% cuts in service.
Until PPT, Mon Valley Initiative and Just Harvest engaged residents and local elected leaders, there was no acknowledgement of the concerns and no public meetings in the affected neighborhoods. Thanks to public pressure on the agency over the past year, we have won a major victory, ensuring that there would be no frequency cuts to any of the 61 and 71 bus lines, and that the 61 A, B, C will become BRT routes that will continue directly to downtown.
Housing
Housing and transit go hand in hand. The housing crisis in Pittsburgh is pushing more and more residents, particularly low income and black and brown residents, out of the city into transit deserts. The isolation of being in far-flung communities without any means of transportation adds to the trauma of displacement and is unacceptable.
PPT has previously been very involved in the Lexington Technology Park and Penn Plaza campaigns.
Past Campaigns and Background
Since working to win the passage of Act 89 in 2011 and preventing funding cuts to mass transit in the county, Pittsburghers for Public Transit has been working with communities organizing for better bus service. Many communities throughout the county. We've worked with residents in Garfield, Penn Hills, Groveton, Baldwin, Moon Township, Perry Highway, Mifflin Estates and most recently, the Hilltop Parkview Apartments in Duquesne.
The hard work of residents led to the restoration of the 59 bus service to the Hilltop Parkview community this summer, after six years of complete lack of service. Last year, service was restored to the isolated apartment complex Mifflin Estates after residents showed up to testify at the Port Authority and signed hundreds of letters demonstrating the need for buses.  Two years ago, residents of Garfield and Penn Hills worked to get weekend service on the 89 and all day and weekend service on the 79, respectively. Groveton and Baldwin residents similarly made pushes for increased transit service, winning their campaigns in 2015.
We are grateful to the hard work of the residents and all the amazing volunteers and advocates who have shown up to fight for transit and allowed for these victories to happen. However, we recognize that many more communities throughout the county remain in need of transit, isolated from jobs, family, friends, doctors' appointments, and so much more. There needs to be more funding for transit so all communities can have a lifeline to get to their daily needs.  There also needs to be a commitment to maintain affordable housing near good transit, particularly as gentrification and development pushes more and more residents to transit deserts well outside the city.
As the existing funding remains stagnant, PPT is working more to push for equitable development policies, particularly around transit hubs, and making sure the policies of the Port Authority remain in line with our mission statement and beliefs. We believe that transit is an essential service and human right, and we need to have a dedicated and sustainable source of funding for it. Corporations, who benefit from the transit service that lets their employees' get to work, should pay their "fare" share!