Come to one of our monthly meetings
Our meetings are held on the second Wednesday of each month at 7pm at 1 Smithfield Street (Pittsburgh Health and Human Services Building) downtown. If you have any questions, please send an email to laura@pittsburghforpublictransit.org. To find the best way to get to our meetings using public transit, check out Port Authority's Trip Planner and download the Transit app for real time bus information!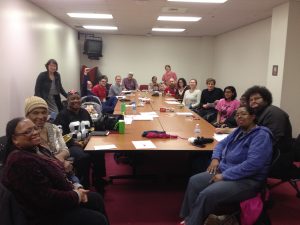 Volunteer with our campaigns
You can reach out to Laura Wiens at (703) 424-0854 or email at laura@pittsburghforpublictransit.org for more information on getting involved!
Subscribe to our newsletter and connect with us on social media
Drop us a line with your name and email address for newsletters and updates from PPT– just send it to chandana@pittsburghforpublictransit.org. Like us on Facebook and follow us on Twitter @pgher4pubtransit.
Sign up to speak at a Port Authority board meeting and tell elected officials how important public transit is to you!
You can sign up to speak at a Port Authority Board Meeting here, and find your state elected officials to tell them why bus lines are your lifeline here.
Make a tax deductible donation to support grassroots organizing for transit
We hope you will consider contributing to PPT so we can continue to mobilize grassroots action to defend and expand public transit in our region! Over the past 4 years, we've supported 8 communities and 5 successful campaigns for expanded bus service.PPT is a volunteer-driven organization and 100% of donations we receive at this website will go directly into our advocacy work to protect, expand, and improve our public transit system. Let's continue to work together to ensure our public transportation systems are inclusive, equitable, and sustainable. 
To make a tax-deductible donation, please click on the yellow donate button below or send a check to the address listed below. Our fiscal sponsor is a 501(c)(3) nonprofit, the Thomas Merton Center.
Or you can donate by sending a check payable to "Thomas Merton Center" to the address below. In the memo line write "Pittsburghers for Public Transit."
Thomas Merton Center
ATTN: Pittsburghers for Public Transit
5129 Penn Ave
Pittsburgh, PA 15224
Finally: no wardrobe is complete without a Pittsburghers for Public Transit T-Shirt! Click on the yellow button below to pay for the 15 dollar t-shirt. Email info@pittsburghforpublictransit.org with your preferred size and mailing address: