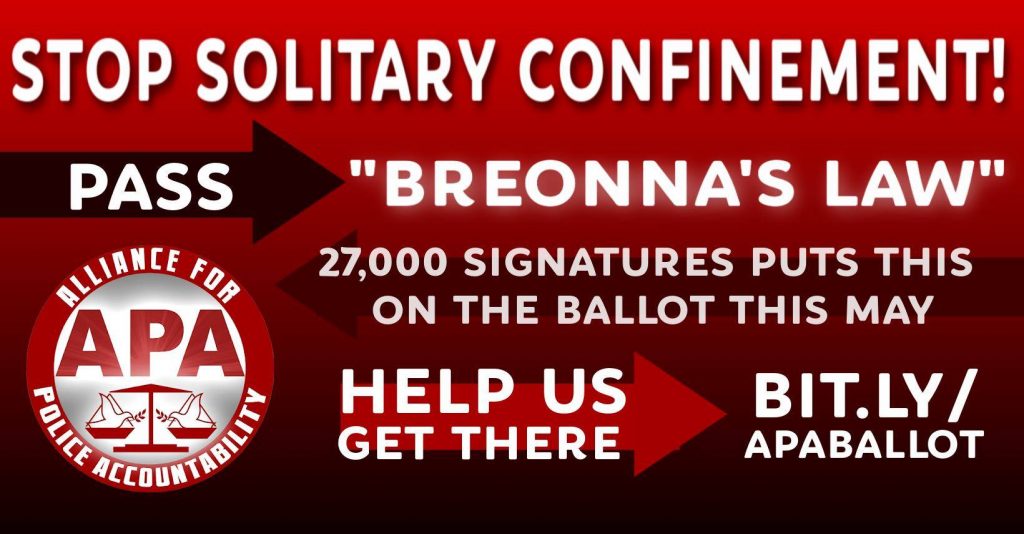 Help bring an end to solitary confinement at the Allegheny County Jail, and pass Breonna's Law to end no-knock warrants because transit justice is an intersectional issue!
Join members of Pittsburghers for Public Transit on Tuesday, January 18th, to support the county-wide effort to end Solitary Confinement and pass Breonna's Law to ban no-knock warrants.
These campaigns are being led by the Alliance for Police Accountability. Visit APA's website for more info on the campaign: https://apa-pgh.org/ballot/
We need over 30,000 signatures to get these issues on the ballot in May.
Help pass these efforts into law by joining PPT on Tuesday, 2/19. either in-person or via phone.
TO SUPPORT VIA PHONE – We'll have a phonebank running all day to call supporters and ask if we can mail them a petition to sign from home. Sign for a shift below!
TO SUPPORT IN-PERSON – We'll also be collecting signatures in-person at transit hubs downtown. Two 2-hr shifts available, 11pm-1pm or 4pm-6pm. Sign up for a shift below!