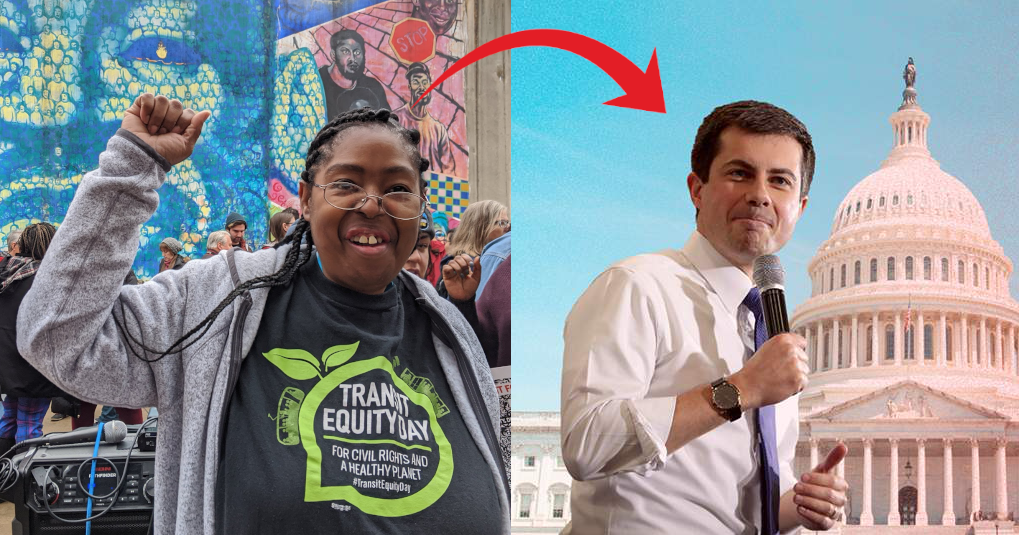 PPT Emeritus Coordinating Committee Member Lisa Gonzalez goes to Washington DC for a personal conversation with New USDOT Secretary Pete Buttigieg
Next week, PPT Emeritus Coordinating Committee Member Lisa Gonzalez will go to Washington DC for a one-on-one sitdown with USDOT Secretary Pete Buttigieg. She was connected to Secretary Buttigieg through our allies at Pittsburgh United and a coalition that we are working together in to expand the understanding of what "infrastructure". Infrastructure is more than just steel and concrete, it is the humans and social connections that we rely on for health and wellbeing.
Ms. Lisa and her sister are the primary unpaid caregivers for their mother who is unable to leave home. Lisa needs to take the bus back and forth to her mom's house. She needs transit to pick up the groceries and medication that her mother needs. Caregivers like Lisa, and public utilities like public transit, are essential infrastructure needed to sustain our lives.
Caregiving is full-time work, but buses have limited hours of operation and fare costs act as barriers to access. Ms. Lisa will use her visit to uplift two primary demands to Secretary Buttigieg:
That the USDOT supports $20 billion for transit operations in the Surface Transportation Reauthorization Bill, to improve equity and allow for service expansion
That the USDOT support federal legislation, funding, and guidance around affordable fares for low-income riders
These demands echo the calls made by transit and caregiving advocates across the country. Follow our social media on Tuesday, May 25th to support Ms. Lisa in her conversation with Pete Buttigieg!
Grassroots advocacy was essential in securing $30+ billion for public transit in federal COVID relief bills. Now we need to organize to ensure that this money is spent equitably and transparently.
Over the last year, PPT has mobilized with transit riders and workers at local, state, and federal levels to move the needle on transit justice. During a pandemic that brought on the worst economic depression of the century, we proved that public transit riders and workers are essential for our cities and our economy. This grassroots movement has brought about unprecedented levels of investment and recognition to public transit, its riders, and its workers.
Transit riders were central in the win to secure $30 billion dollars through 3 COVID stimulus bills public transit agencies and cities across the country. This money was critical for saving transit from historic threats. Transit riders also uplifted the importance of transit during the presidential primaries and general elections. Ultimately, we contributed to electing a President who has been the most outspoken advocate of public transit in recent memory.
We have brought home hundreds of millions of dollars to our local agencies. We are moving a federal government to release plans for historic levels of transit support. Now is the time for transit riders and workers keep the pressure up on all fronts: local, state and federal. We can make transit justice a reality.
New PPT op-ed with BikePGH raises demands for how President Biden's American Jobs Plan can be executed with equity at its core